Mallorca has a varied and tasty range of cuisines. The island, in the heart of the Mediterranean, has been influenced by diverse cultures, countries, and even religions for hundreds of years.
Its variety of products and flavours are another reason as to why the Majorcan cuisine is a great incentive to visit this island community (in addition to its wide variety of postcard photo opportunities). Enjoy the tasty nuances from every part of the island on your palate. Palma, Serra de Tramuntana, Raiguer, Palma de Mallorca, Migjorn and Llevant.
The foundations of Majorcan cuisine
Mallorca is a relatively large island meaning its typical ingredients and recipes vary depending on which part of the island they are from.  
The harvest of vegetables and grains is common in Mallorca, and this is largely reflected in its food. Pork from the inland and fish on the coast are two other main ingredients of traditional Majorcan recipes. And of course, the island also has a long lasting bread and bakery tradition that dates back to before the 14th century.
In summary, below are some of the main ingredients of many typical Majorcan dishes:
     

Fish and shellfish

     

Pork

     

Vegetables and beans

     

Olive oil and butter

     

Different types of salts and black pepper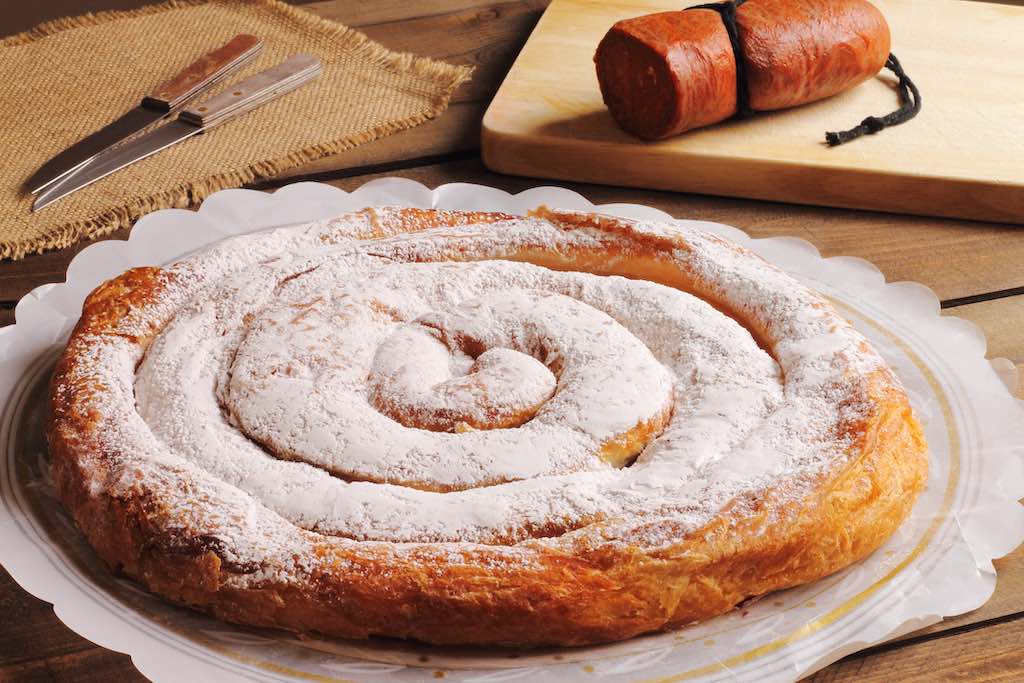 The best recipes from Palma de Mallorca
The food from Palma de Mallorca has a characteristic traditional flavour. Despite the passing of the years, Majorcan food has been able to maintain its culinary traditions while also incorporating innovations from other cuisines. 
Some of the delicious Majorcan dishes that you have to try on your next visit to the city are:
Undoubtedly, one of Mallorca's most well-known dishes. This rice broth has a delicious combination of meat and vegetables: mushrooms, green beans, chicken, rabbit, pork ribs, peas, onion, tomatoes, and saffron. Its unique flavour is owed to its special seasoning of cinnamon, nutmeg, cloves, and black pepper. 
With a base of fried vegetables, Tumbet can be served on its own or as a garnish for a meat dish or with another meal. Ingredients: aubergine, red pepper, green pepper, courgette, potato, tomato, oil, salt, garlic and bay leaf. 
Although it may be one of Mallorca's most simple dishes, it is also one of the most typical. It is a common dinner time snack in many Majorcan households, with each family putting their own twist on it: brown bread, tomatoes, virgin olive oil and a pinch of salt. It is perfect with some Mahón cheese or some local charcuterie cuts.  
Made with a base that resembles a pizza, this dish is a great option for kids and adults alike, as it contains plenty of oven cooked vegetables. 
Dating back over six centuries, the Frito mallorquín is one of the island's oldest dishes. Made from meat, liver, and boiled blood, it is a stew with potatoes, onion and tomato.
Made with sliced bread and vegetable stock, this Majorcan style soup is served without its broth. The main ingredients for its preparation are: artichokes, kale, cauliflower, peas, spinach, green pepper, parsley, onion, bread, garlic, tomato, oil, salt and pepper.  
Although more typical at Easter, it's always a good time to enjoy an empanada mallorquina. And there are empanadas for everyone: beef, beef and peas, lamb, pork, chicken, fish, and even cuttlefish. 
Ensaimadas and Sobrasada are, probably, two of the island's most well-known sweets. The Ensaimada is without doubt the star of Majorcan pastries, thanks to its sweet flavours. It is available in different sizes and flavours. Without a filling, with whipped cream, cream, chocolate, and cabello de ángel (a type of spaghetti squash).
Which one of these typical dishes will be the first you try on the island?