Travelling to Mallorca means living an experience full of nature, beauty and unforgettable moments. This Balearic island gives off an indescribable aroma that floods everything with a feeling difficult to explain in words but easy to feel as soon as its air envelops you. It is not its physical aroma but that special aura that the island generates around everyone who walks down its streets, its beaches and its waters. Even silence feels different if you enjoy it from any of the beautiful cliffs of this magical island. 
Mallorca hides a great variety of turquoise coves, good weather, white sandy beaches, charming corners and its unforgettable gastronomy. Some people even compare the beaches of Mallorca with those of the Caribbean due to its crystal clear waters and warm climate. You will have to travel to the island to see if this is true or not. However, there are certain things you should know before traveling to Mallorca. Let us tell you about them!
Travel to Mallorca in a different way
The island of Mallorca hides an endless number of places and moments worthy of being experienced in a different way. If you are one of those people who prefer to go off the beaten track, Mallorca is the perfect place to make this plan come true. 
Be the one to discover the natural beauty of the place with your own steps. Mingle with the local people, generate authentic memories and don't get obsessed with the pre-established tourist routes. Let time stand still, let the clock not run and let every minute spent on the island be unique. No haste, only calm serenety. This is the only way to experience the island like a real Mallorcan would.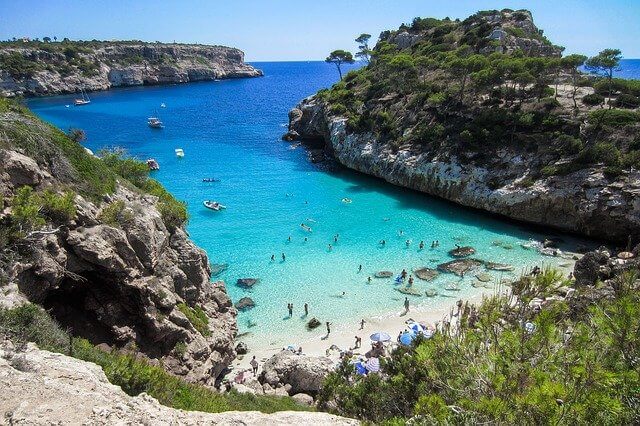 To experience Mallorca in a different way, we recommend you to follow these 5 steps  on your next trip: 
Mallorca has a great variety of charming accommodation. They are old renovated houses or even rural lodges that exude authenticity through each and every one of their walls. They are probably not located in the most central points of the city nor their offer is "all inclusive". However, with this type of accommodation you will be able to savour the authentic taste of the Mediterranean using all five senses. A cozy rustic room where the sounds surrounding you are those that nature wants to give you every day. Sounds good, doesn't it?
Take a motorcycle or a bicycle tour around the island.
It is wonderful to get lost on the picturesque roads of the island of Mallorca. You will enjoy each trip as if the route to your destination was already part of what tourist guides should write in their pages. If you prefer a more ecological and sustainable option, the bicycle is undoubtedly the best way to travel around the island with zero CO2 emissions.
Authentic Mallorcan gastronomy
When it comes to eating, do not hesitate: no one will recommend a better place to eat than a local. Mallorca's gastronomy has a great variety of unique recipes that you should not fail to try. However, you will have to choose among numerous restaurants that will be within your reach and that is why there is no better option than asking the locals where you can eat like a real Mallorcan.
Choose outdoor and cultural activities
Away from the programmed excursions on the island, you will be able to go hiking and do outdoor activities to discover the most Mallorcan side of the island. Walking through some of its most special places surrounded by lush nature is a truly wonderful experience. There are unique paths that will take you to small and impressive secret corners that very few people know about.
Different areas of the island
Before travelling to Mallorca and drawing your possible itinerary, it is necessary to know roughly how the different areas of the island are organized and what they are like. Thus, while in the southern area, you will find some of the best beaches (Caló des Moro, S'Almunia, Es Trent, Es Marmols), the northern area is the wildest part of the island (also with tourist spots such as Sa Calobra and Cape Formentor).
Don't think twice, design your trip following these 5 steps before travelling to Mallorca and enjoy this beautiful Balearic island in a different way.