The island of Mallorca has many places to discover. The city of Palma de Mallorca has a wide variety of historic buildings, art, and some truly magical spots. However, it is not the only reason why this Balearic island is becoming increasingly popular year on year. With over 3,600 square kilometres, anyone visiting Mallorca has the chance to discover its nature, full of fantastic landscapes and unbeatable settings. 
So pack your bags, note down some typical Majorcan expressions and words and get ready to visit some of the Mediterranean's most beautiful towns.
Mallorca's prettiest towns
The beauty and diversity of Mallorca mean that each one of its towns has its own particular character and unique personality. With the common denominator being the traditional beauty of these picturesque towns, these small municipalities know how to keep hold of their roots, and they are well worth a visit. 
If you want to discover beyond what Palma de Mallorca has to offer, you must see the historical town of Banyalbufar, the charming town of Sóller, the natural port of Portocolom, the glamour of Port d'Andratx, the impressive views from Deià, or the rocky mountains of Fornalutx.
Towns around Palma de Mallorca that are ideal for a short break
Whether you've got several days or just on a quick break to Palma de Mallorca, discovering the surrounding towns is always a great option to get a real flavour of this Balearic island. If you've got your own transport on the island, make a note of the towns below, which are close by to Palma de Mallorca. You'll love them!
Considered to be one of Spain's most picturesque towns, Valldemossa has been visited by distinguished guests such as Archduke Ludwig of Austria and the composer Frederic Chopin.
Sóller is a pretty Majorcan town mainly known for being a theoretical island within the island of Mallorca. Located in the Valle de los Naranjos, Sóller has some of the most unique architecture in Mallorca. Its cobbled streets and local crafts make this town the perfect place to enjoy a day surrounded by nature and Majorcan authenticity. 
Many consider this to be the most characteristic town on the island thanks to the contrast between the inland and the port areas. It also marks the entrance to the Formentor peninsula, with some wild landscapes that will not disappoint.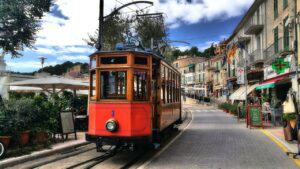 Towns in the Serra de Tramuntana
Many say that the Serra de Tramuntana represents the personality and authenticity of Mallorca. Declared as a UNESCO World Heritage Site, the towns around or in the Serra de Tramuntana mountain range have a special charm that combines their picturesque streets, the mountains, and beautiful houses. Valldemossa, Sóller, Pollensa, Fornalutx, Deià, Biniaraix, Banyalbufar and Estellencs are just a few of the more well-known towns. We recommend hiring or bringing your own vehicle to fully enjoy the island of Mallorca. Where would you start?