Have you heard of the Llotja de Palma? This monument is located in Palma's oldtown and is well worth a visit if you want to take in its beautiful gothic style; the Llotja is also hidden away in one of Palma's best neighbourhoods, where you can enjoy a variety of bars, pubs, and restaurants once night falls. Let us tell you about the history of this mythical building and let you in on the interesting restoration proposals that have been made in the past.   
The history of the Llotja de Palma
The Llotja de Palma, also known as Sa Llotja, was the old building of the Colegio de las Mecaderes in the 15th century. Sometime after it became known as one of the island's best examples of gothic architecture. Built by Guillem Sagrera between 1425 and 1452, it was originally a meeting place for merchants. The Llotja was used as a place to govern the island's trade activities and to carry out the necessary repairs to the port.  
Its construction was a culmination of civil Majorcan gothic culture. It was also the first time that an architect such as Guillem Sagrera assumed the responsibility of an entire project, both in regard to the construction and the sculptural details.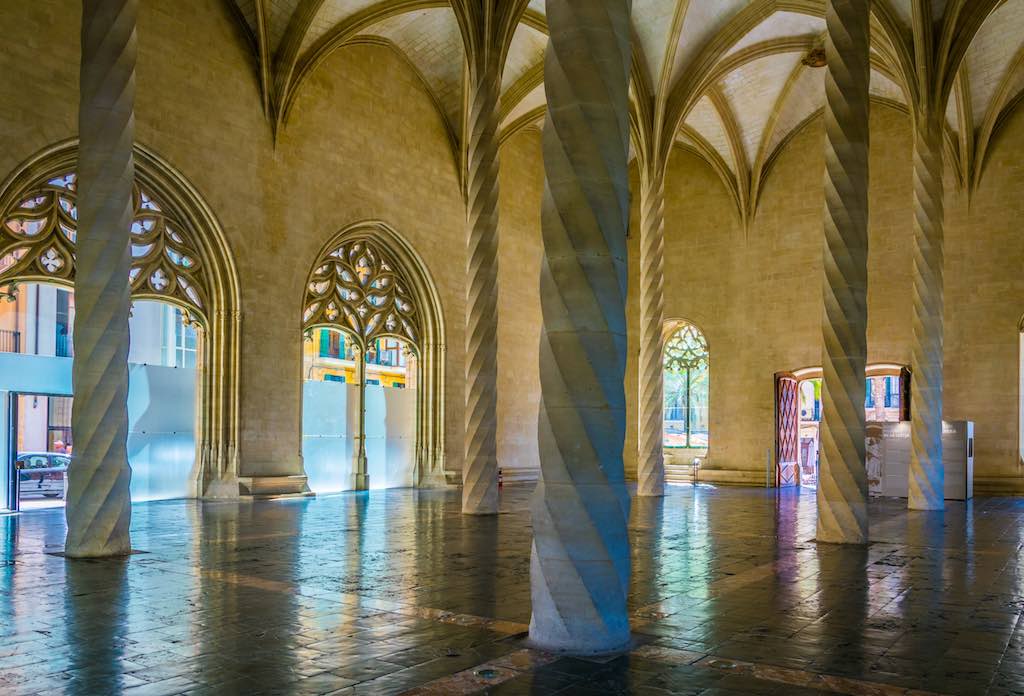 Llotja de Palma opening times
If you want to visit the Llotja de Palma, bear in mind that the opening times change at different points in the year:
From May to October:
-10:30 to 13:30
-16:00 to 22:00
From November to April:
-10:30 to 13:30
-16:00 to 18:00
On Mondays the Llotja de Palma is closed (with the exception of Easter Monday and the first and last Mondays in May, August, and October). It is also open on national holidays (with the exception of 1st January, 1st November, and 25th December).
Recommended cafes and restaurants around the Llotja de Palma.
The Llotja is much more than just the island's historical trading hub. Plenty of bars and restaurants have cropped up around the nearby area, such as those detailed below:  
One of the Llotja de Palma's most popular restaurants, it offers high quality oysters at a very reasonable price, among other delights.  
Undoubtedly, one of the area's most well-known restaurants, meaning it is often a good idea to book ahead if you want to try some of the delicious flavours offered up at this famous establishment. 
With a unique decoration and ambience, at Sadrassana you can enjoy a fully Majorcan style menu. Only open for lunch.  
La Paloma is one of the area's oldest restaurants. Its authenticity and history mean that its meat and fish tapas dishes are known all over the island. 
Situated within a beautiful, restored building, Ocho Kitchen is located very close to the Llotja de Palma and offers a daily set menu with Mediterranean and Scandinavian flavours. Its cuisine is highly creative, tasty, and very well presented.  
Its name comes from the artistic arches than can be found in its bodega. A romantic style restaurant that is perfect for an evening dinner, offering up traditional Basque and other regional tapas dishes.