It is time to discover the real Mallorca through some of its fantastic hiking trails, where you can enjoy the beauty of this magical and natural wonderland. Mallorca is a real natural paradise thanks to its emblematic landscapes including the Serra de Tramuntana, a mountain range which runs along the northern coast of the island. 
Mallorca is the perfect place for countless activities, but it is also the ideal place to take a break, breathe, and enjoy the beautiful settings on offer. 
Hiking trails in Palma de Mallorca
The island of Mallorca does not just offer beauty and fun for sea lovers, it is also the perfect place to enjoy the wonders of the island's terrain. The Balearic island has a huge number of trails, footpaths, and routes to explore and discover the magic of its flora and fauna.
Around the island you can also find various hiking trails suited to different levels, times, and ascents. 
Hiking trails in Mallorca (easy)
For hiking fans, Mallorca has become a real hotbed as there are lots of trails adapted to every level of difficulty. If you are looking for some simple hiking trails in Mallorca, note down the following:
A simple 2.5 kilometre walk along a marked footpath where there is no chance of getting lost. In around 45 minutes you'll reach the end and find a tunnel that will lead you into a cave. 
Ruta del Barranco de Biniaraix
Declared as a place of cultural interest due to its landscapes, its environment, and its history, this trail takes you through a gorge and has an ascent of up to 700 metres. It is a relatively easy hiking trail as it is well marked out and the ascent is bearable if you are going at a moderate pace. 
Ruta de la Ermita de la Victoria
This beautiful trail goes from the Ermita de la Victoria to the peak of the Talaia de Alcudia. It is as simple and short trail and is perfectly marked so that you don't run into any difficulties. From the top you can see the Alcudia Bay, the Pollensa Bay, the Serra de Tramuntana mountains, and even Formentor. 
Sea and mountain hiking trails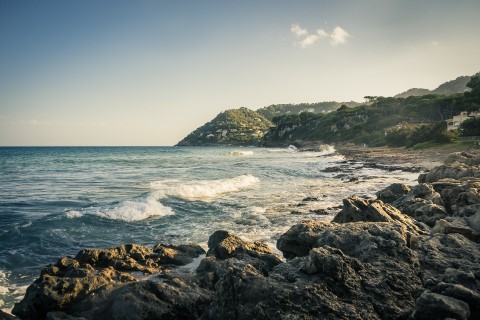 For fans of both land and sea, Mallorca is a real treasure as you are able to hike up mountains while taking in views of the fantastic turquoise water below.
Starting at Estellencs you can head up to Puig de Galatzó, which is at 1,026 metres of altitude. It takes around five hours and covers a total of 12 kilometres. This ascent is not complicated, but you must take care during the last section. 
You can start this relatively easy trail from Sant Telmo and enjoy wonderful views of the island's southeast coast throughout the hike. While you trek you can also see the Dragonera islands and the Sant Josep valley. 
The Llevant Natural Park is home to a vast number of trails that lead to different unspoilt coves. You'll be able to discover some beautiful coves such as Sa Font Celada. 
Are you going to come with us on one of these hiking trails?